A bad day to be a purple blob
This thing ...

... is not one of this nation's 150 favorite pieces of architecture, according to an American Institute of Architects/Harris Interactive survey, summarized in today's Wall Street Journal.
As the accompanying story points out, Las Vegas' The Bellagio Hotel and Casino did make the list (No. 22).
As well as this: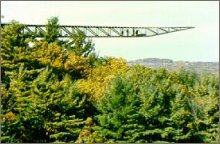 ... which also is home to the world's largest working carousel, adorned by many naked women:
---
UPDATE:
Blair Kamin, The Chicago Tribune's Pulitzer Prize-winning architecture critic, reacts.
Labels: Self-righteousness